Breakfast Menu
---
Breakfast at GRANA is a classic dining experience, featuring eggs benedict, zucchini bread French toast, parfaits and more.
Breakfast is served Monday through Sunday from 7am – 11am.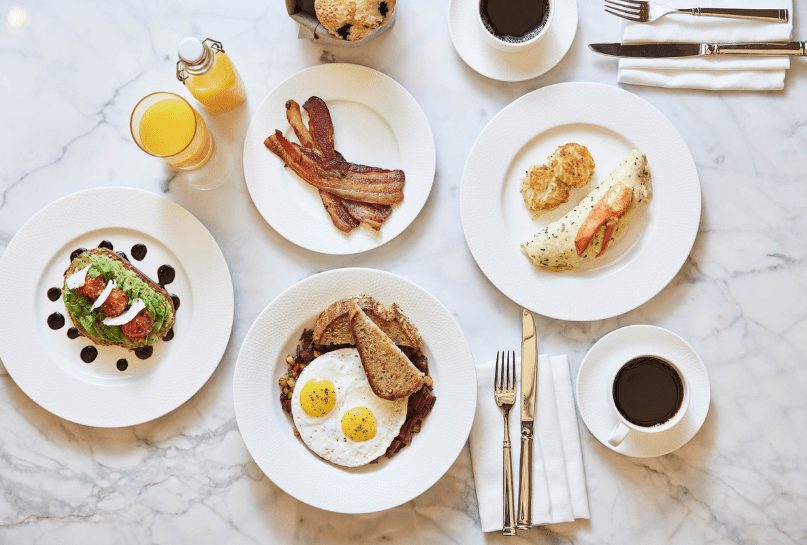 BREAKFAST
---
Daily from 7am – 11am
vegetarian
vegan
gluten free
HEALTHY START
Steel Cut Oatmeal 15
steamed milk, brown sugar, apple compote
Parfait 17
greek yogurt, seasonal berries, chocolate amaretto granola
Mixed Seasonal Fruit 18
selection of house ripened fruits and fresh berries
Avocado Toast 19
cherry tomatoes, shaved ricotta salata, olive oil, vincotto
Overnight Oats 16
strawberries, cacao nibs, hazelnut streusel
Smoked Salmon Bagel 23
caper cream cheese, pickled shallot, dill, everything spice
FARM FRESH EGGS
Two Eggs any Style* 24
choice of breakfast meat, crispy potatoes
American Classic Omelet* 24
three eggs, crispy potatoes ,choice of toppings, mushrooms, peppers, red onion, tomatoes, spinach, bacon, ham, American, cheddar, goat gruyere, add lobster +25
Traditional Eggs Benedict* 27
house-made canadian bacon, poached egg, hollandaise, crispy potatoes, add lobster +25
Egg White Frittata 27
chanterelles, spigarello kale, asiago cheese
FRESH PRESSED JUICES & SMOOTHIES $11
Carrot, turmeric, orange juice 11
Cinnamon almond smoothie 11
FROM THE GRIDDLE
Belgian Waffle 18
Vermont maple syrup, fresh berries
Pancakes 18
buttermilk, blueberry or chocolate chip
Banana Bread French Toast 22
macadamia nuts, rum zabaglione, banana brulee
SIDES
Thick Cut Smoked Bacon* 8
COFFEEE & TEA
Jing Rose Hibiscus Iced Tea 9
*Denotes food items are cooked to order or are served raw.
Before placing your order, please inform your server if a person in your party has a food allergy. Consuming raw or under cooked animal products may increase your risk of foodborne illness
Make a Reservation
---
GRANA is open seven days a week for breakfast, Monday through Friday for lunch, and Saturday and Sunday for brunch. Reservations for weekend brunch are highly recommended.
Please call 1-617-956-8765 or email [email protected] for reservations. You can also visit us on Open Table.
Book a Table