Lunch Menu
---
Our lunch menu features shared plates and classic Italian dishes, as well as whimsical cocktails and beverages.
Available from 11:30am – 2:30pm weekdays.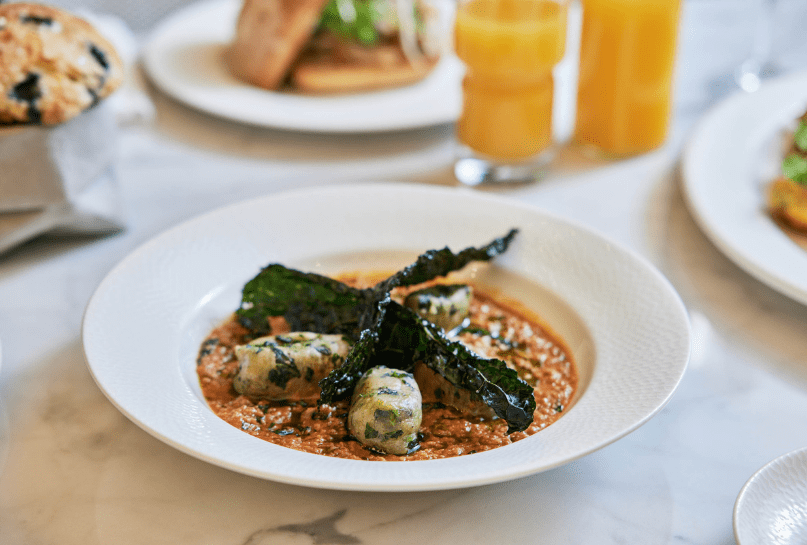 LUNCH
---
Available from 11:30am – 2:00pm weekdays
vegetarian
vegan
gluten free
COCKTAILS
Spiced Pear Mimosa 15
Spiced Pear, Lemon, Cinnamon, Bubbles
Guava Margarita 16
Avion Tequila, Lime, Dry Curaçao, Guava
Rise and Brine 17
Vodka, Ancho Verde, House Bloody Mary
Dirty Chai Latte (nonalcoholic) 9
Espresso, Chai, Agave, Milk
Can You Coco-Not (nonalcoholic) 9
Pineapple, Coconut, Lime Soda
The Floor is Guava 9
London Essence Roasted Pineapple Soda, Guava, Lemon
CAFE
Latte & Cappucino 9
add vanilla or cinnamon +$2
Passionfruit Vanilla Iced Tea 9
BEER
Lawson's Finest, Sip of Sunshine IPA 12
Blizzard of 78 Brown Ale 10
Sam Adams (non alcoholic) IPA 7
WINES BY THE GLASS
17
Adami Bosco Di Gica, Prosecco, Valdo Biande, Italy NV
26
Champagne Taittinger, Brute Cuvee, Prestige, Burgundy, France NV
15
Le Grand Courtage, Brut Rose, Burgundy, France NV
17
Cline Seven Ranchlands, Pinot Noir, Sonoma, CA 2021
15
Domaine Bousquet Reserva, Malbec, Mendoza, Argentina 2021
17
Damilano, Nebbiolo, Langhe, Italy 2020
18
Ancient Peaks, Cabernet Sauvignon, Paso Robles, CA 2020
19
Chateau Cap de Merle, Bordeaux, France 2020
17
Lawson's Dry Hills, Sauvignon Blanc, Marlborough, NZ 2021
18
Tiefenbrunner, Pinot Grigio, Alto Adige, Italy 2021
17
Jean-Marc Brocard, Chardonnay, Chablis, France 2022
20
Au Contraire, Chardonnay, Sonoma, CA 2019
16
Maison Sainte Marguerite Symphoine, Rose, Provence, France, 2022
TO SHARE
House-Made Rosemary Focaccia 10
Local Sea Salt, Rosemary First Press Olive Oil, Bagna Cauda
Lobster Croquette 22
Parmesan, Arugula
Burrata 20
Slow Roasted Tomato, Coriander, Ciabatta
Vegetable Caponata 18
Grilled Bread, Pine Nut, Balsamic
LITE FARE
Minestrone Soup 10
parmesan cookie
Mixed Green Salad 16
seasonal vegetables, heirloom tomato, garden herbs, white balsamic vinaigrette
Autumn Panzanella Salad 19
Baby Kale, Toasted Pepitas, Brussel Sprout, Squash, Parmesan, Croutons, Dijon Vinaigrette
Caesar Salad 18
baby romaine, farm fresh egg, piave, crouton, anchovy dressing
Arugula Salad 14
meyer lemon vinaigrette, shaved parmesan
add grilled chicken* $11, sauteed prawn* $12
seared scallop* $16, crispy skin salmon* $15, lobster* $25
Lobster Chowder 18
potato, salted pork, minced chive
LARGE PLATES
Mushroom Bolognese 26
linguini, confit garlic
Arctic Char 28
risotto Milanese, saffron, toasted pistachio, minced herbs
Lobster Conchiglie Pasta 32
lobster, sofrito, Calabrian chile, torn basil
Roasted Green Circle Chicken 32
roasted chicken breast, parmesan polenta, braised kale, gremolata
Panino Verdure | Grilled Vegetable Panini 24
ciabatta, grilled zucchini, roasted pepper caponata, watercress, caprino cheese
Lobster Roll 46
Maine lobster, kewpie mayo, celery, onion, house-made brioche bun
all sandwiches are served with choice of arugula salad or fries and giardiniera
NONNA'S KITCHEN
Monday: Porchetta 26
Uccelletto Beans, Stewed Tomato, Shaved Fennel
Tuesday: Mushroom Gnocchi 26
Porcini Butter, Hazelnut, Roasted Mushroom, Parmesan
Wednesday: Spaghetti Pie 22
Baked Spaghetti, Ricotta, Tomato, Spiced Chili, Wild Arugala
Thursday: Bucatini Carbonara 26
Pecorino, Guanciale, Free Range Egg
Friday: Frutti di Mare 32
New England Seafood, Spicy Tomato Broth, Shaved Fennel & Frond, Saffron Tagliatelle
*Denotes food items are cooked to order or are served raw.
Before placing your order, please inform your server if a person in your party has a food allergy. Consuming raw or under cooked animal products may increase your risk of foodborne illness
Make a Reservation
---
GRANA is open seven days a week for breakfast, Monday through Friday for lunch, and Saturday and Sunday for brunch. Reservations for weekend brunch are highly recommended.
Please call 1-617-956-8765 or email [email protected] for reservations. You can also visit us on Open Table.
Book a Table