Lunch Menu
---
Our lunch menu features shared plates and classic Italian dishes, as well as whimsical cocktails and beverages.
Available from 11:30am – 2:30pm weekdays.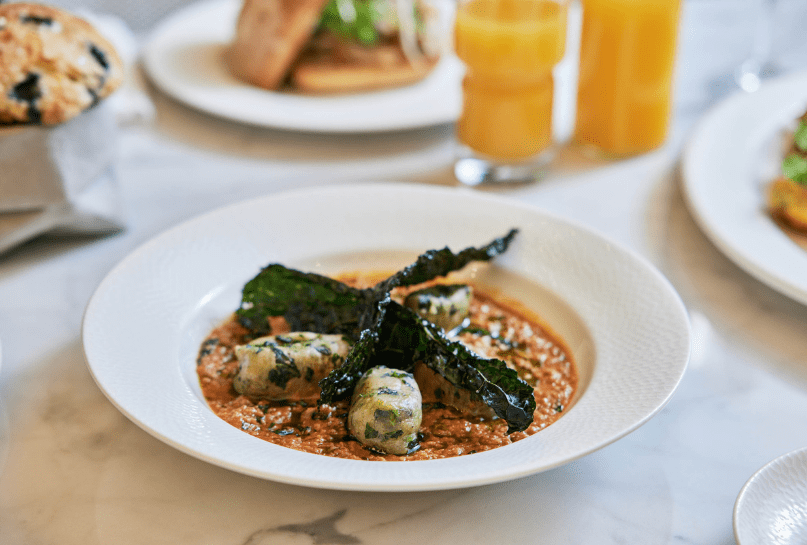 LUNCH
---
Available from 11:30am – 2:30pm weekdays
vegetarian
vegan
gluten free
COCKTAILS
Spiced Pear Mimosa 17
Lemon, Spiced Pear, Cinnamon, Bubbles
You Fine Apple 16
Malfy Gin, London Essence Roasted Pineapple, Rosemary, Honey, Lime
Tomato Tomahto 17
Elyx Vodka, Ancho Verde, House Bloody Mary Mix
Lavender Honey Latte (nonalcoholic) 9
Espresso, Lavender Honey, Oat Milk
Cup Of Positivitea (nonalcoholic) 9
Coconut Water, Lemon, Chai, Agave
Lucky To Have Me (nonalcoholic) 10
London Essence Roasted Pineapple, Cranberry, Rosemary Honey, Lime
BREAKING BREAD
House made bread basket 8
Pizza bianca & grissini
+3 each
Giardiniera, slow roasted garlic, mortadella, proscuitto, taleggio mornay
+3 each
Proscuitto, taleggio morny
TO SHARE
Arancini 17
Bolognese, piave, arugula
Burratini 22
Castelvetrano, summer truffle, olive oil, ciabatta
Bruschetta 18
'Nduja, radish, olive oil, ricotta, arugula, cracked pepper
LITE FARE
Minestrone Soup 10
parmesan cookie
Mixed Green Salad 15
summer squash ribbons, heirloom tomato, garden herbs, white balsamic
Summer Bean Salad 18
summer beans, red cabbage, baby kale, almond, pinenut, roman mustard vinaigrette
Caesar Salad 17
tuscan kale, polenta crisp, piave, tahini Caesar dressing
Arugula Salad 13
meyer lemon vinaigrette, shaved parmesan
add grilled chicken* $11, sauteed prawn* $12, hangar steak* $25
seared scallop* $16, crispy skin salmon* $15, lobster* $25
LARGE PLATES
Crispy Eggplant Milanese 26
fresh Pomodoro, watercress, grilled lemon
Panino Verdure | grilled vegetable panini 22
ciabatta, grilled zucchini, roasted pepper caponata, watercress, caprino cheese
Il Manzo | roasted beef sandwich 26
ciriola, grassfed top round, arugula, pickled shallot, gorgonzola crema
Via Aemilia | prosciutto sandwich 24
piadina romagnola, prosciutto cotto, truffle, crescenza, tomato conserva, fresh basil
Cavatelli pasta 29
roasted mushroom, porcini butter, toasted hazelnut
Tagliatelle pasta 32
sepia, jumbo lump crab, stracciatella, herbs, lemon
all sandwiches are served with arugula salad and giardiniera
NONNA'S KITCHEN
Monday: Lasagna 24
Italian Sausage, Stewed Tomatoes, Ricotta, Fresh Mozzarella
Tuesday: Pasta e Fagioli 26
Braised Pork Belly, Stewed Vegetables, Tuscan Beans, Tomato
Wednesday: Spaghetti Pie 22
Baked Spaghetti, Ricotta, Tomato, Spiced Chili, Wild Arugala
Thursday: Chicken Cacciatore 32
Braised Chicken Thigh, Tomato Stew, Wild Mushroom, Parmesan
Friday: Cioppino 34
New England Seafood, Spicy Tomato & Fennel Broth, Torn Garlic Bread
SWEET TREATS
Torta Di Mandorle 13
poached stone fruits, mascarpone cream, almond, orange reduction
Budino Al Cioccolata 13
milk & dark chocolate, candied grapefruit, caramelized hazelnut
Cannoli Bacca Rossa 10
ricotta cream cheese filling, strawberry curd
*Denotes food items are cooked to order or are served raw.
Before placing your order, please inform your server if a person in your party has a food allergy. Consuming raw or under cooked animal products may increase your risk of foodborne illness
Make a Reservation
---
GRANA is open seven days a week for breakfast, Monday through Friday for lunch, and Saturday and Sunday for brunch. Reservations for weekend brunch are highly recommended.
Please call 1-617-956-8765 or email [email protected] for reservations. You can also visit us on Open Table.
Book a Table